On release in 1977, Johnny Thunders & the Heartbreakers' 'L.A.M.F.' had a mastering fault, widely condemned as a 'muddy mix'. Track Records went bust and the master was lost - so subsequent releases were compiled from outtake or re-mixes. Forty-four years later, the master has been found in an attic - and 'L.A.M.F.' can at last be heard as the band and producers intended!
FOUND IN AN ATTIC - a punk rock archaeological discovery: a copy master of the original 1977 Track Records tape, without 'mud'! This classic punk album, recorded in London by the New York band featuring two New York Dolls, was always controversial - and not just for the acronym. Upon release the mix was universally condemned in the music press - later found to be a mastering fault.
When Track went bust the following year, manager Leee Black Childers burgled the Track Records' Carnaby Street 3rd floor office and liberated the tapes that belonged to him and the band. He found everything - except for the master-tape.

Subsequent releases were remixed from the multi-tracks ('Revisted', 1984) or compiled from outtake mixes - the 'lost '77 mixes' (1994) being the version most known. A lift from the vinyl for a 'definitive' box set didn't achieve full clarity. Meanwhile, fans found the 1977 cassette version didn't have the infamous 'mud', nor did certain European vinyl matrixes.

Unexpectedly, in 2020 a chance meeting led Jungle to Daniel Secunda's archives. Danny was an old-school music biz pioneer who became a Track Records director - and the Heartbreakers 'L.A.M.F.' co-producer. In amongst his archives stored in his attic were numerous tape boxes, including two with no artist name, marked: 'Copy Master 12.7.77'. They turned out to be a crystal-clear 'L.A.M.F.', just as the band and producers intended it.


Sadly, in August 2020 the Heartbreakers co-lead vocalist, guitarist and songwriter Walter passed away. He was the last of the Heartbreakers 'L.A.M.F.' line-up - Johnny Thunders died in 1991, Jerry Nolan in 1992, and Billy Rath in 2014. Walter's punk memoir autobiography is published by Backbeat Books, and his band The Waldos also had their album 'Rent Party' reissued for Record Store Day and on CD.

L.A.M.F. - the found '77 masters was first issued as a vinyl LP for RSD in July 2021, that immediately sold out.
Now the CD version comes together with a bonus CD - 'the L.A.M.F. demos, plus'; a 19-track collection of four demo sessions from 1976-77 and three tracks from singles. It's packaged in a hardcover 32-page book, with notes by Simon Wright and a 2012 interview with Walter Lure, together with rarely-seen photos, including Roberta Bayley cover session outtakes.
In September 2022 a 45th Anniversary LP in neon pink vinyl was issued as a RSD Essential release, and the 'L.A.M.F. demo sessions' in magenta vinyl followed for RSD Black Friday 2022.

WHERE TO BUY?
The 2CD edition, the 45th anniversary edition and the L.A.M.F. demo sessions are available for order at our Jungle Direct webstore.

Disc 1: The Found '77 Masters: Born Too Loose, Baby Talk, All By Myself, I Wanna Be Loved, It's Not Enough, Chinese Rocks, Get Off The Phone, Pirate Love, One Track Mind, I Love You, Goin' Steady, Let Go, Can't Keep My Eyes On You, Do You Love Me.
Disc 2: The Demo Sessions, Plus: Born To Lose, Chinese Rocks, Born Too Loose, Chinese Rocks, Let Go, Can't Keep My Eyes On You, I Love You, It's Not Enough, Do You Love Me, Take A Chance, Born To Lose, I Wanna Be Loved, Going Steady, Flight, Pirate Love, Give Her A Great Big Kiss, Too Much Junkie Business, London Boys, Can't Keep My Eyes On You (live).
Here's the audio of Born To Lose together with a video explainer: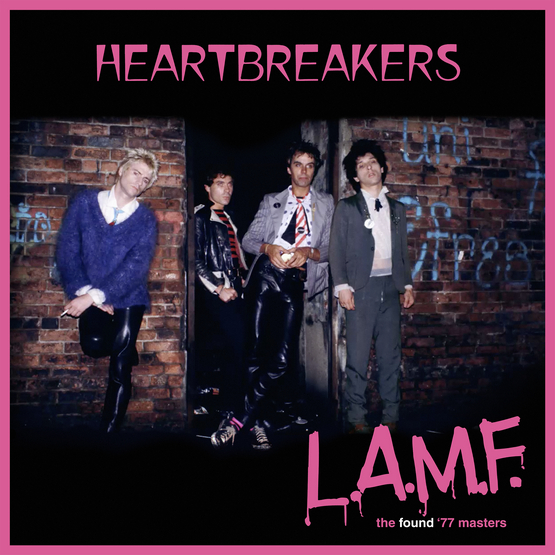 The inside poster pic, L.A.M.F. session outtake by Roberta Bayley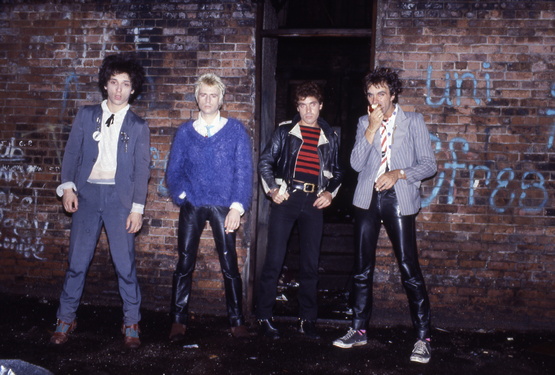 The inner bag.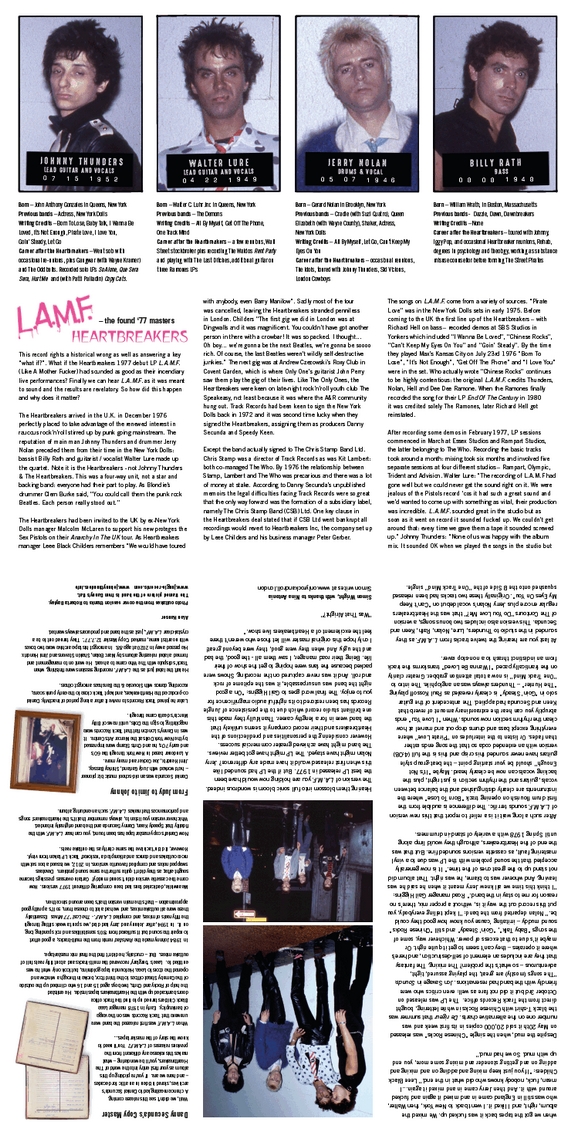 The found tapes from Daniel Secunda's attic archive.