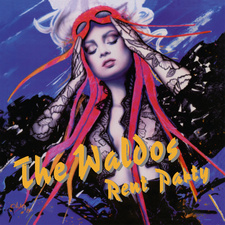 Walter Lure, best known as co-frontman and songwriter of the Heartbreakers, also led his own band, The Waldos. Their debut Rent Party LP has been reissued for Record Store Day as a limited edition in blue vinyl with two bonus tracks. The CD, with four bonus tracks, is also reissued.


Sadly, Walter died in August 2020, the last of the 'L.A.M.F.' Heartbreakers. His memoir "To Hell And Back: My Life In Johnny Thunders' Heartbreakers - In The Words Of The Last Man Standing" is published by Backbeat in various editions. Upon the original Rent Party release, AllMusic.com said - "The long awaited Waldos album proved to be a big success, at least artistically ... the Waldos tear through a set of tunes that are as much fun as a CD can have with its clothes on."

Walter Lure's guitar-sparring partner in The Waldos in place of Johnny Thunders is Joey Pinter, whose self-titled solo album was released in 2015. The rhythm section is the late Tony Coiro on bass and Jeff West on drums except on the bonus Crazy Little Baby 7" tracks, the late Charlie Sox.

The album features six Walter Lure originals, plus covers of Jerry Nolan, Gary US Bonds, Claudine Clark and Ray Charles songs. A limited edition in transparent blue vinyl, with inner bag.

14 tracks: Cry Baby; Love That Kills; Sorry; Seven Day Weekend; Never Get Away; Golden Days; Crazy Little Baby (7" ver); Flight: Countdown Love; Busted; Crazy Little Baby; Crazy Bout Your Love; Party Lights; Cry Baby (7" ver).
Also released on July 17 RSD Drop#2 is 'L.A.M.F. - the FOUND '77 master'
WHERE TO BUY? RSD Drop#2 was Saturday July 17 2021.
***The LP and CD are now available from our direct mail webstore***

RSD releases are exclusively made available to RSD shops (except in USA it's not a RSD release - see below). Participating shops can sell by mail-order afterwards. The Waldos 'Rent Party' LP was made available to stores listed at these RSD sites:
UK: https://recordstoreday.co.uk DE: http://www.recordstoredaygermany.de/
NL: https://recordstoreday.nl BE: https://www.recordstoreday.be/
SE: http://www.recordstoreday.se IE: https://recordstoreday.ie
***For USA & Canada please order from: https://mvdshop.com/***
RSD International: https://recordstoreday.com/Stores?country=select