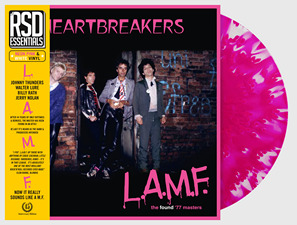 HEARTBREAKERS 'L.A.M.F. the found '77 masters'
'Record Store Day Essential'* - Out now (released September 02 2022)
Forty-fifth anniversary edition of the classic 1977 punk album, now heard as intended (just prior to the exact anniversary of October 3 1977). After decades of only outtakes, remixes and mud, the master was found in an attic.

In (really) glowing neon pink and white vinyl, with an obi-strip and inner bag with notes on the band and tapes by Simon Wright. This new anniversary version follows the very limited RSD2021 LP.
FOUND IN AN ATTIC – a copy master of the original 1977 Track Records tape, without 'mud'! This classic punk album, recorded in London by the band featuring New York Dolls Johnny Thunders and Jerry Nolan, was universally condemned in the music press for having a 'muddy mix' – later found to be a mastering fault. When Track went bust the following year, manager Leee Black Childers burgled the Track Records' Carnaby Street 3rd floor office and liberated the tapes that belonged to him and the band. He found everything – except for the master-tape, which remained undiscovered until last year. Previous releases have been from outtakes or remixes.
It was released for RSD in 2021 in limited quantities, so now RSD Essentials USA* have selected it as an 'Essential Vinyl' album, to satisfy the demand for this recently discovered acclaimed recording.
*'RSD Essentials' is a USA initiative that supplies US RSD stores with essential vinyl albums throughout the year. 'L.A.M.F.' is #25; details here: RSD Essentials. Outside of the USA it will be available from indie stores and by mail-order here. (The planned RSD 'LAMF demo sessions' LP is released on November 25 2023, RSD Black Friday)
Tracks: Born to Lose, Baby Talk, All By Myself, I Wanna Be Loved, It's Not Enough, Chinese Rocks, Get Off the Phone, Pirate Love, One Track Mind, I Love You, Goin' Steady, Let Go, Can't Keep My Eyes on You, Do You Love Me.
Also available is a 2CD book package together with the the 'LAMF demo sessions' and more.
Clem Burke from Blondie says: "L.A.M.F. is one of the most brilliant rock & roll records ever made." Here's a 17-second clip: -
Here's a L.A.M.F. explainer video: