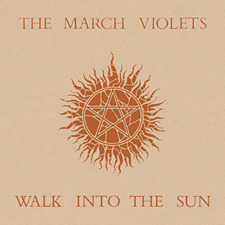 The March Violets number one indie-chart hit Walk into the Sun is re-released digitally on October 7. It's the first time it's been heard in its 7" version since its 1984 summit. The single entered the indie charts on August 4 1984, went to the number one position and then stayed in the charts for 35 weeks.
Since then only the extended club mix has been on CD and digital streaming. Now the concise, radio-friendly classic is at your finger-tips. Click here and pre-save it to your collection.
Walk into the Sun followed up the number two indie-chart hit Snake Dance. It preceded another number two single, Deep - similarly unavailable, except in two versions featuring unheard Si Denbigh vocals on the recent BBC sessions Big Soul Kiss 2LP.
All The March Violets indie singles and more are now compiled on Play Loud Play Purple, a double-vinyl purple LP pre-selling here. Also on the 5xCD box set The Palace of Infinite Darkness with much more, available here.
What happened to The March Violets? Inevitably after their indie-chart achievements, they signed to a major label and were groomed for greater success, appearing in the John Hughes 'Some Kind of Wonderful' movie and touring the USA. Of course, it didn't work out as planned and only one single came out.
They reformed 25 years later, successfully touring the UK, USA and Europe and making new recordings through Pledge Music. However, illness twice beset that phase and it ended in 2016.