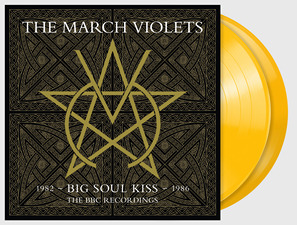 THE MARCH VIOLETS 'Big Soul Kiss' – the BBC Recordings 180g 2xLP

Order here, released September 2022

Listen now on digital services, here
Reissue of the sold-out Record Store Day 2LP – this time on limited Citrine Yellow 180g vinyl. Twenty-three tracks recorded for John Peel and others – including nine unreleased songs. The collection also features alternative versions of their indie chart-toppers Snake Dance, Walk into the Sun - and Deep with Simon D's previously unheard vocals.
THE MARCH VIOLETS came from Leeds in the early 80's, friends and label-mates of fellow drum-machine band Sisters of Mercy. Releasing six singles, they were a constant presence in the UK indie charts, hitting the top two spots with Snake Dance, Deep and #1 with Walk Into The Sun. They never got around to recording an album – their only '80's long-players, 'Natural History' in the UK and 'Electric Shades' in the USA, were compilations.
Eventually they signed to a major label and were groomed for a USA breakthrough, performing in the 1987 Some Kind of Wonderful movie. However they were asked to make too many compromises and split up.
Their early eighties career was thankfully well-documented by the BBC, who broadcast six sessions between 1982-86 – three for John Peel, who first introduced them to the world, and one each with Kid Jensen, Janice Long and Richard Skinner.
Chronicling their development with lead singers Simon Denbigh, Rosie Garland and Cleo Murray and backed by bassist Lawrence Elliot and guitarist Tom Ashton, with nine songs they never got to release and alternative versions of their indie hits. Here is the unheard history of The March Violets.
Side One: 1. Radiant Boys, 2. Steam, 3. 1 2 I Love You, 4. Grooving In Green, 5. Crow Baby, 6. The Undertow.
Side Two: 1. Strangehead, 2. Slow Drip Lizard, 3. Walk Into The Sun, 4. Deep, 5. Kill The Delight.
Side Three: 1. Big Soul Kiss, 2. Lights Go Out, 3. Love Hit, 4. Don't Take It Lightly, 5. Electric Shades, 6. The Face Of The Dragonfly.
Side Four: 1. Snake Dance, 2. Deep, 3. High Times, 4. Close To The Heart, 5. South Country, 6. Avalanche Of Love.
Broadcast by the BBC between 1982 – 1986.
A two-LP compilation of all The March Violets eighties releases and more, Play Loud Play Purple is also available now, as well as the 5xCD box set including all the BBC Sessions, all their singles and two CDs of previously unreleased material, 'The Palace of Infinite Darkness'