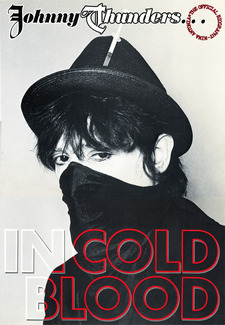 Two e-books on Johnny Thunders are due on his birthday, July 15.
'Johnny Thunders ... In Cold Blood', the official biography by Nina Antonia is pre-selling as a new illustrated e-book edition.
And a new interactive e-book 'Johnny Thunders Sleeve Notes' to accompany the digital albums, with links to listen to each album, is published alongside it.
'JOHNNY THUNDERS ... IN COLD BLOOD'
The official biography of the New York Dolls and Heartbreakers' guitarist. 'Johnny Thunders: In Cold Blood' is the cult bible of all things Thunders. It is the definitive portrait of the condemned man of rock'n'roll, from the baptism of fire and tragedy that was the New York Dolls, through the junkie punk years of the Heartbreakers and beyond. It is an unflinching account of a unique guitarist whose drug problems often overshadowed his considerable style and talent. Johnny was a hugely influential figure in both the glam-rock and punk eras and his music and style still resonates today.
Nina Antonia discovered Johnny Thunders and the New York Dolls when a young teenager and spent her formative years as a dedicated fan. Writing was her other passion and she commenced his biography in the early 80's. Then Johnny came to London, he and his manager read her drafts, decided the book should be an authorised biography, and uniquely gave her full access to Johnny's life.
The book covers Johnny from his early life through the New York Dolls, Heartbreakers and solo, with interviews of many of the characters involved in his career. It then changes tone and the story is continued in the present tense as Nina describes her first-person experiences of mixing with the real-life Johnny and his associates.
Johnny died in mysterious circumstances in New Orleans in 1991, leading to much speculation.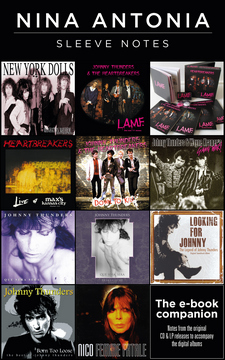 First published in 1986, it was updated and revised in 2000 after Johnny's death and with further insights gained from Nina's biography of the New York Dolls (Omnibus). 'In Cold Blood' has also been published in Italy and Japan.
This new e-book edition contains over 120 pics and illustrations, including unseen photos. Book length: over 80,000 words.
Browse 'Johnny Thunders - In Cold Blood' e-book here
'JOHNNY THUNDERS SLEEVE NOTES'
Johnny Thunders sleeve notes by biographer Nina Antonia, with interactive links to listen to each album. An essential guide to the digital album versions and a vital companion to Nina's biographies. It gives background info on albums by Johnny Thunders, The New York Dolls, The Heartbreakers and Gang War, plus bonus notes on Nico, originally published in the CD and LP releases.
Read more: Johnny Thunders - two e-books

Johnny Thunders was the influential, mercurial guitarist, singer and songwriter of both the Heartbreakers and New York Dolls and who was a key figure in both the glam-rock and punk rock eras, and remains much revered today. Nina Antonia is the official biographer of Johnny Thunders, and has also written biographies of the New York Dolls and Peter Perrett amongst other books.
These ten in-depth Johnny Thunders album liner-notes chart his recording career and life, in Nina's enlightening and engaging style. It also includes a bonus essay on Nico, the bewitching and dark female voice of the Velvet Underground.
The e-book comprises notes for these eleven album releases: -
New York Dolls 'Manhattan Mayhem'; Johnny Thunders & the Heartbreakers 'L.A.M.F. - the lost '77 mixes'; 'L.A.M.F. - the definitive edition'; 'Live at Max's Kansas City Vols 1 & 2'; 'Down To Kill'; Johnny Thunders & Wayne Kramer 'Gang War'; Johnny Thunders 'Que Sera, Sera'; 'Que Sera, Sera - Resurrected'; 'Looking For Johnny' soundtrack; 'Born Too Loose - the best of'; Nico 'Femme Fatale'.
The e-book includes interactive links to Spotify, Apple and Amazon to stream or download each album. Size: over 26,000 words; 75 pages.
Pre-order 'Johnny Thunders Sleeve Notes' here
*These e-books both can be read on a PC, tablet, or smartphone on the free Kindle app.
'In Cold Blood' can also be read on a Kindle device; however 'Sleeve Notes' cannot, as Kindles don't support the interactive elements.