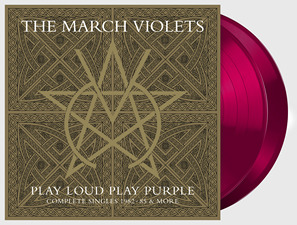 THE MARCH VIOLETS 'Play Loud Play Purple' 2xLP

Order now - released October 21 2022

The Complete Singles 1982 – 85 & More, on limited purple vinyl gatefold LP. Includes their indie chart-toppers Snake Dance, Deep and Walk into the Sun 7" versions. Twenty-two tracks – all their 1980's repertoire plus three highlights from this century
THE MARCH VIOLETS came out of Leeds in the early 80's, label-mates of Sisters of Mercy. Releasing six singles, they were a constant presence in the UK indie charts: Religious as Hell, Grooving in Green, Crow Baby and hitting the top two spots with Snakedance, Deep and #1 with Walk Into The Sun. This is the first time Deep and the 7" version of Walk Into the Sun have been made available since then. The band didn't get around to recording a full album – both their '80's long-players, Natural History in the UK and Electric Shades in the USA, were compilations.
Eventually they signed to a major label and were groomed for a USA breakthrough, performing in the 1987 Some Kind of Wonderful movie. However they were asked to make too many compromises and eventually split up.
Here is all their 1980's independent catalogue compiled in the original versions, together with three tracks from this century. It chronicles their development with lead singers Simon Denbigh, Rosie Garland and Cleo Murray, backed by bassist Lawrence Elliot and guitarist Tom Ashton.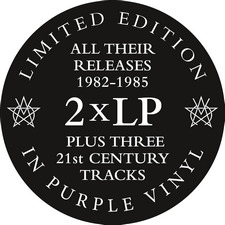 Side A 1. Radiant Boys, 2. Religious As Hell, 3. Fodder, 4. Children On Stun, 5. Bon Bon Babies, 6. Grooving In Green
Side B 1. Steam, 2. Crow Baby, 3. 1 2 I Love You, 4. Long Pig, 5. Snake Dance, 6. It's Hot;
Side C 1. Slow Drip Lizard, 2. Walk Into The Sun, 3. Lights Go Out, 4. Essence, 5. Deep;
Side D 1. Eldorado, 2. Electric Shades, 3. Cut Down Pretty, 4. Road Of Bones, 5. Mortality
Cat.No: FREUDLP136 UPC: 5013145213612