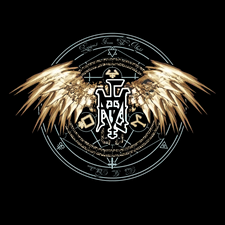 NFD 'Requiems From the Abyss'
3CD deluxe box-set with 5 art-cards, poster, 24p book. On sale now.
A two-CD anthology plus a third disc of unreleased demos, live bootlegs and extras. Many tracks are alternative, unreleased versions* The deluxe box set includes: five art-cards, a poster, and a 24-page booklet with Mick Mercer notes.
NFD are a London & L.A.-based hybrid Goth/Rock band formed in 2002 out of the ashes of Nefilim and Sensorium. Peter 'Bob' White (Sensorium) & Simon Rippin (Sensorium/Nefilim) teamed up with founding Fields of the Nephilim member Tony Pettitt, and NFD were realised. Long serving and integral member Chris Milden maintains rhythm guitar duties while Luca Mazzucconi (drums) joined the ranks in 2009 to complete a formidable line up of some of the best musicians on the scene.
NFD gigged extensively all over the world and released four albums 2003 – 2014, playing at festivals such as Whitby Gothic Weekend, Dark City, Witchfest, M'era Luna, Wave-Gotik-Treffen and Zillo. As well as headlining their own concerts. They have played as support band for Skinny Puppy, The 69 Eyes, Mortiis, Umbra et Imago and The Mission. New plans are now underway!
DISC 1: Light My Way (Radio Edit)*, Return To Dust*, Caged, Turbine (Nothing Lasts Forever), Witness*, Remain In Chains*, Stronger, Black Sun, Break The Silence (Variation)*.
DISC 2: Now Or Never (Radio Edit)*, No Love Lost, Lost Souls (Extended)*, Keep A Light Shining (Reignited)*, Unearthed, Never Let It Die, Got Left Behind, When The Sun Dies*, Senseless.
DISC 3*: Spiral II (Possession Absolute), Welcome To My World (Demo), Control (Demo), Never Again (Demo), Embrace The Day (Demo), Beyond The Veil (Demo), Lay Some Truth On Me (Demo), Omen/Unleashed (Live Bootleg), Descent (Live Bootleg), One Moment Between Us (Live Bootleg), The Bat Cave – Total Rock Radio interview outtakes with Bob & Tony. *Previously unreleased versions