35th Anniversary 3CD Box Set. Featuring the remixed album with extra tracks, a new live album, the original album, plus a 36-page booklet. Coming September 11th
The 1985 studio album – 'Resurrected' - revamped with two new tracks plus six bonus outtakes, all remixed by The Vibrators' Pat Collier.
Disc 2 is 'Que Sera Sera – live in Europe' - 18 mostly unreleased recordings, 1984-85.
Disc 3 is the original album mix and related single tracks.
Packaged in a clam-shell box with a 36-page booklet featuring new notes by Johnny's biographer Nina Antonia, plus lyrics and unseen photos
In 1985 Johnny Thunders went into the studio in London, to record his third and final solo album. He gathered friends Mike Monroe, Patti Palladin, John Perry, Wilko Johnson, Henri-Paul Tortosa, Nasty Suicide, JC Carroll, Stiv Bators, Glen Matlock and others, and the resulting album was christened 'Que Sera, Sera'.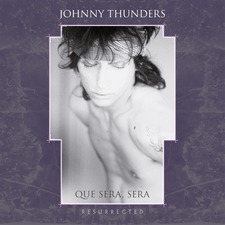 It wasn't all plain sailing – with Johnny it rarely was. Johnny had spent the previous two years in relative stability. He'd been gigging around the world, and between tours he was filming in France. Life was a series of nice apartments and hotels shared with his constant companions – his girlfriend Susanne and his manager Christopher.
Now circumstances meant he had neither. Without a new release, touring slowed, and his high-maintenance lifestyle led him to seek friend favours for somewhere to live. The major labels that Christopher hoped would provide financial support hadn't materialised.
In a row with Susanne, she complained that Johnny had never written a song for her. Johnny obliged, and along with new songs from his live set, he recorded I Only Wrote This Song for You (the remixes of this and Alone in a Crowd are now available to stream or buy as digital singles; click on titles). Before the album was finished, as soon as he had a rough monitor mix of the song, he flew to Sweden to attempt a reconciliation.
Those remaining at the studio were left to put the pieces together. Patti Palladin oversaw the mixing with the engineer, and found there wasn't really enough for an album. Patti added Tie Me Up from the b-side of her Crawfish project, and Blame It On Mom was found from an earlier session. The title-track was actually an afterthought; recorded as a single 16 months later.
The album was well-received, and it got Johnny touring again, but there was always a sense that it could have been better, and that the guitar was restrained – in '85 many artists were seeking mainstream crossover. Two tracks had been left off – Jerry Nolan's Countdown Love song was unused as he hadn't yet recorded it; and Talk About You, a lengthy blues workout that didn't seem to fit.
With those two tracks in mind as bonus tracks for a reissue, Pat Collier, former Vibrators' guitarist, was asked to mix them. When the results came through, it became obvious that Pat should remix the whole album using today's technology and viewpoint.
In the multi-track tapes a few outtakes were discovered, and last year the 'Resurrected' version was released as a Record Store Day double-vinyl with 5 bonus live tracks. After interruptions, the CD version was reappraised and expanded to a three-disc box set. The original album is included, reinstating Tie Me Up and the old, familiar mixes. Three live gigs were uncovered, and they became the live version of the album as a bonus CD.
Johnny Thunders' biographer, Nina Antonia, has written new notes with interviews for the 36-page booklet. It also includes lyrics and unseen photos from the recording sessions, the cover session and from one of the featured live gigs.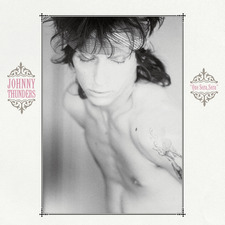 Tracks:
DISC 1: Resurrected: Alone In A Crowd, Countdown Love, Blame It On Mom, Talk About You, M.I.A., Little Bit Of Whore, Short Lives, I Only Wrote This Song For You, Cool Operator, Billy Boy, Endless Party, Que Sera Sera. Extras: Copy Cat, Blame It On Mom (outtake),Taking You Up Avenue D, Short Lives (outtake), I Only Wrote This Song For You (outtake), Cool Operator (first version).
DISC 2: Live in Europe: Geneva: Blame It On Mom, M.I.A., Cool Operator, Personality Crisis, Countdown Love, Little Bit of Whore, Amsterdam: Short Lives, So Alone, Sad Vacation, Too Much Junkie Business, Little Bit of Whore, Born To Lose, Chinese Rocks, Lyon: Countdown Love, Just Another Girl, Talk About You, Alone In A Crowd, It's Alright (Blame It On Mom). (74 mins)
DISC 3: The original album: Short Lives, M.I.A., I Only Wrote This Song For You, Little Bit of Whore, Cool Operator, Blame It On Mom, Tie Me Up, Alone In A Crowd, Billy Boy, Endless Party. Extras: Cool Operator (Black Cat mix), Short Lives (Heavenly ver.), Short Lives (Johnny's remix), Que Sera Sera
Catalogue number: FREUDCD129 Barcode: 5013145212929
Listen on your music service here