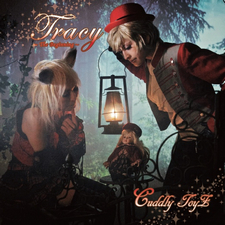 Cuddly ToyZ feat. Paddy Phield's new 'Tracy - the Beginning' CD now available here.
Paddy Phield, the original drummer of glam-punk band Cuddly Toys (1979-80) returned to Japan and formed 'Cuddly ToyZ' almost four years ago, as a one-off tribute for the 20th anniversary of former Cuddly Toys frontman Sean Purcell who died in 1996. It was deemed to be very successful, so after the tribute show Paddy was encouraged to carry on Cuddly ToyZ, adopting a more theatrical direction.

They toured Japan with the UK theatrical rock band Doctors of Madness, and supported ex New York Dolls guitarist Sylvain Sylvain's new 'Dolls' band in Tokyo in 2018. Tragically, the ToyZ guitarist Atsushi passed away from cancer a couple of months afterwards. 
Now with a renewed line-up they've recorded 'Tracy - The Beginning', the ToyZ first album, containing original Cuddly Toys 'Guillotine Theatre' gems such as Timewarp, Brain Saviour and the Bowie/Bolan song Madman, all with a decidedly Japanese glam twist, and including a previously unreleased Cuddly Toys song, 'Tracy'.
Cuddly ToyZ Members Biography

Paddy Phield
The Japanese drummer, original member of punk band Raped (1977-1978), Cuddly Toys (1979-1980) and Panache (1981). Later worked with some session bands in England, France and Japan. Suffered a stroke in 2002, but after a long rehabilitation formed Cuddly ToyZ in Japan in 2016. Their first album 'Tracy - The Beginning' is released in Japan in 2019.
Momo (Vocal)
Loves Japanese Manga/Anime, acts as a cosplayer. Makes some stage costumes, wigs by herself. Also designed 'Tracy -The Beginning' CD artwork. Joined the band in 2017.
Rudy (Bass)
Started his music career at 17 years old. Studied music theories and performance skills under Mario Horikawa; participates in many shows and recordings of professional musicians. Joined Cuddly ToyZ from 2016.
kunihiko (Guitar)
Joined Cuddly ToyZ in 2019 Also member of Japanese punk band THE PINK'99 (guitar), electro unit EDGE (guitar, bass, programming). As EDGE, under the name of Kirei, he composed PSP game software 'Ghost in the Shell - Stand Alone Complex'. The EDGE first album 'Realize' was released in Japan in 2012.
Lily (Guitar)
Japanese glam rocker who has a long career as bassist, guitarist, composer. Participated in many glam bands as support. Loves the glamourous style – and motorcycles. Joined Cuddly ToyZ in 2019.
raika (Keyboards)
Played with Japanese 80's punk band "MERRY GO ROUND", psychedelic acoustic folk duo "Aoi Hoshi". Had lots of gigs, tours, recordings, also works solo too. Joined Cuddly ToyZ in 2017.

This Japanese import CD is exclusively available from Jungle. More info & buy here.

Join the Girls:-
Cuddly ToyZ on Facebook Cuddly ToyZ on Youtube Paddy Phield on Twitter
Listen to the original Cuddly Toys here: On Spotify On Apple On Amazon