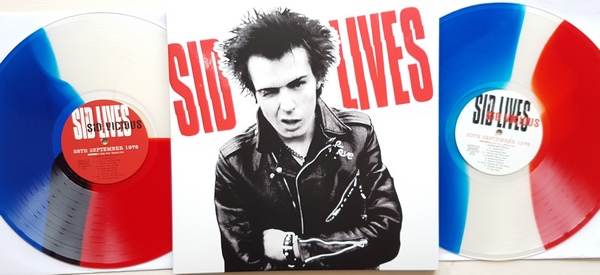 Sid Vicious 'Sid Lives' - a 2xLP of Sid's last ever four shows in a Black Friday Record Store Day limited tri-colour vinyl edition. Also on 2xCD with 24-page booklet.
With 39 tracks, mostly previously unreleased, it comes packaged with comprehensive 8,000-word notes in the gatefold sleeve. This tells the story of Sid: firstly in an eyewitness account from surviving guitarist Steve Dior; secondly in a lengthy SID, NANCY and SEX PISTOLS day-by-day timeline from pre-Pistols early days to his demise (and inevitable Nancy death theories); plus a song-by-song background.
Buy the 2xLP here! Buy the CD here. Listen on: Spotify Apple Amazon.
Since his death Sid has come to symbolize the Sex Pistols - always courting controversy he out-did old college-mate Johnny Rotten in the punk outrage stakes. With an impressive rock'n'roll voice and an abundance of attitude, just three memorable solo singles was all that he left - plus an industry of posters, documentaries and films.
These recordings, backed by the New York Dolls' late rhythm section of Arthur Kane and Jerry Nolan along with guitarist Steve Dior (at that time trading together as 'The Idols'), show the direction Sid would have gone for his next recordings had he lived. This is the definitive Sid Vicious release for all fans of the punk-rock scene.
FREUDLP095 / FREUDLP095
*Vinyl and Pistols obsessives will want to know that this is a slightly different, new cut (and edit, due to LP time constraints) than the previous pressings.*
Buy the 2xLP here while stocks last! Buy the CD here.
Listen on: Spotify Apple Amazon.
Read the Sid Vicious Timeline, here: www.sidviciouslives.com