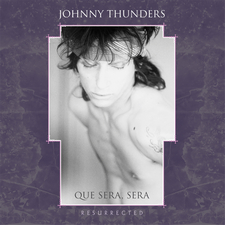 Johnny Thunders' 1985 studio album – remixed and revamped with many unheard tracks. Remixed by Pat Collier, it features two new tracks discovered on the album 2-inch tapes along with six unreleased outtakes.
The album features Wilko Johnson, Mike Monroe, John Perry, Patti Palladin, Henri-Paul Tortosa, Nasty Suicide, Stiv Bators, JC Carroll, Glen Matlock amongst others. The bonus LP has one side of studio outakes and five live tracks on the other.
A Record Store Day release on April 13 2019, in a limited edition in purple and white vinyl. It includes an insert with unseen pics, and the gatefold sleeve has comprehensive new background notes by Johnny Thunders biographer, Nina Antonia.

It's the 1985 studio album, completely remixed and revamped - as it should have sounded, and expanded with two unreleased tracks that were left off the original album. They are Countdown Love, a Jerry Nolan song regularly featured in Johnny's live shows but not used as Jerry hadn't yet issued his own version at the time; and Talk About You, a blues guitar work-out that Johnny loosely based around the Chuck Berry song.
The bonus album has one side of six outtakes, including Copy Cat and the previously unheard Taking You Up Avenue D. Five live tracks from the period take up the other side. Tie Me Up with Patti Palladin was from the Crawfish sessions, therefore it's not on the 'Que Sera, Sera' multi-track tapes and doesn't appear here. The title-track, recorded by Johnny as an after-thought in February 1986 (along with his Short Lives remix) for a single, does gain its rightful place on the album, completing 12 tracks on disc 1.

The album is remixed by The Vibrators' Pat Collier, who has brought the guitar properly up in the mix. Johnny didn't stay in London for the original mixing sessions, and now it can be heard nearer to how we believe he intended.
Includes a 12" x 24" lyric insert full of unseen photos. The new gatefold sleeve notes by Thunders biographer Nina Antonia include new interviews with various participants, including Mike Monroe. It's a limited edition in purple & clear white vinyl.

DISC 1: Remixed: Alone In A Crowd, Countdown Love, Blame It On Mom, Talk About You, M.I.A., Little Bit Of Whore, Short Lives, I Only Wrote This Song For You, Cool Operator, Billy Boy, Endless Party, Que Sera Sera.
DISC 2: Outtakes & alternate versions: Copy Cat, Blame It On Mom (outtake),Taking You Up Avenue D, Short Lives (outtake), I Only Wrote This Song For You (outtake), Cool Operator (first version). Live in Lyon: Countdown Love, Just Another Girl, Talk About You, Alone In A Crowd, It's Alright (Blame It On Mom).
FREUDLP129 (2xLP)
Limited left-overs now on sale at our Jungle Direct Store.

WHERE TO BUY? Check participating stores here - your local store may still have some:-
UK: https://recordstoreday.co.uk USA: https://recordstoreday.com DE: http://www.recordstoredaygermany.de/ NL: https://recordstoreday.nl SE: http://www.recordstoreday.se IT: http://www.recordstoreday.it IE: https://recordstoreday.ie BE: https://www.recordstoreday.be/ CA: http://recordstoredaycanada.ca/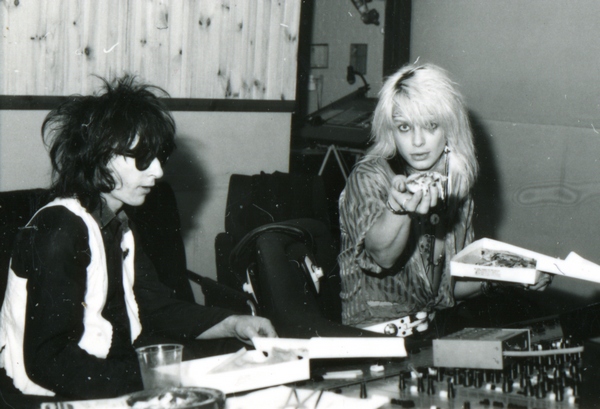 Johnny and Mike Monroe - pizza break at the controls