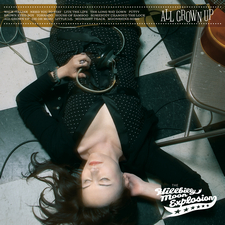 Record Store Day Limited Edition LP in transparent green khaki vinyl.
Produced by Mark Neill (Black Keys) in San Diego, USA in 2006, it features many HME favourites incl. Little Lil, Brown Eyed Boy, Long Way Down, Tornado etc
• Unavailable on LP or CD for many years; selling expensively on Discogs
A limited edition in transparent green khaki vinyl. Since the recording in San Diego with producer Mark Neill (Black Keys) in 2006, HME have flourished as a hard-touring live act and reflected in Youtube viewer activity of many tens of millions. This album has not been available for years on either LP or CD; and the original vinyl sells for up to $150 on Discogs.
'All Grown Up' includes some of their favourite and viral tracks: Little Lil, Tornado and Brown Eyed Boy have over 3 million Youtube views between them. Fronted by the captivating Emanuela Hutter and rock'n'roll double-bassist Oliver Baroni, they're regularly touring throughout Europe UK & USA. The UK/Swiss/Italian/French band stamp their European take on American rockabilly – and are now exporting it back to America.
Tracks: Walk Italian, Need You To Stay, Live the Life, The Long Way Down, Putty in Your Hands, Brown Eyed Boy, Tornado, House of Bamboo, Somebody Changed the Lock, All Grown Up, Oh Oh Mojo, Little Lil, Midnight Track, Moonshine Song.
A limited quantity are now on sale at our Jungle Direct Store.
On tour in USA and through Europe: check details at:-
www.hillbillymoon.com facebook.com/hillbillymoonexplosion
FREUDLP130 5013145213018 RSD19: April 13