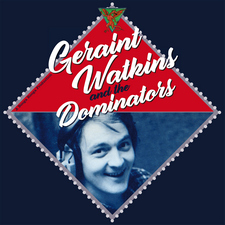 Geraint Watkins - 'Geraint Watkins & the Dominators' (1979), 'Watkins Bold As Love' (1997) - the first two, quite different albums of his lengthy career are reissued.

'Geraint Watkins & The Dominators' is issued on CD and digital for the very first time, together with bonus unreleased sessions. It's been repackaged with unseen pics and 'the story of the album' notes from Andy Fairweather Low.

'Watkins Bold As Love' is reissued on CD and for the first time on digital after being unavailable for fifteen years. It's also been repackaged.

Geraint Watkins, singer, songwriter, sideman is for most an undiscovered treasure. Recently known for idiosyncratic live Facebook sessions, he's however often heard on the radio and already features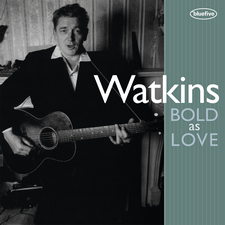 in most record collections.

Geraint Watkins was born in South Wales in the 50's, and after art school in Portsmouth he moved to London, gaining an apprenticeship in the 70's pub rock scene. Hearing a radio session, Andy Fairweather Low tracked Geraint down to produce an album. 'Geraint Watkins & the Dominators' was released on Vertigo in 1979, launching Geraint and the band as an accomplished group of intense rock'n'rollers. All bar one track were covers, although the one Geraint composition 'Deep in the Heart of Texas' swiftly became a favourite and was itself often covered.

More tracks with original songs were then cut with an unrealised plan of a second album. Later, famed producer Glyn Johns heard the band, also decided to champion them, and recorded 'The Dominators' for three weeks of sessions. These comprise eight bonus tracks on the CD reissue, now heard for the first time. The back-story to the album is told by Andy Fairweather Low in the sleeve-notes and narrated in a coming video.
Geraint and the Dominators were soon poached by producer Stuart Colman to back his new protégé Shakin' Stevens, resulting in the biggest string of hit singles of the 80's. They backed Dave Edmunds on a few albums and Geraint become the rock'n'roll piano and accordion player of choice. Over the years, he's played with leading artists such as Van Morrison, Rory Gallagher, Mark Knopfler, Nick Lowe, Status Quo, Eric Clapton, Bill Wyman's Rhythm Kings, Paul McCartney (and another two Beatles). One highlight was when four of Geraint & the Dominators became Willy and the Poor Boys alongside three of the Rolling Stones and other luminaries.

Being in such high demand meant there was little time or opportunity for Geraint to pursue his own career, but all the while he was honing his craft. Consequently, his second album was not until 1997 when Nick Lowe's producer, Neil Brockbank heard some bedroom recordings. Together with drummer Bob Irwin, and with Nick on bass, they put together the 'Watkins Bold As Love' album on their Bluefive label to showcase original Geraint compositions. Upbeat and joyful – despite some songs coming from moments of despair – it was warmly welcomed and rewarded with a number of film soundtrack slots. Allmusic said:

"A delight from beginning to end – a smooth and engaging singer. Furthermore, his songs run the gamut of genres, and are all tied together with an earthy honesty and commitment. There are slow piano blues numbers, buoyant swing pieces, heart-riveting pop selections, visits to New Orleans, and more."

This was followed in 2003 by 'Dial W for Watkins', which had two tracks played by Bob Dylan on his radio show; 'In A Bad Mood' in 2008, resulting in an appearance on BBC TV's Later with Jools Holland and a slew of live radio sessions, and by 'Moustique' in 2014 which consolidated a pair of prior 10" vinyl EPs.

Geraint's songs have been covered dozens of times including by Don McLean, Dave Edmunds, NRBQ, Pokey Lafage and The Holmes Brothers and it is his song craft, his interpretations, instinctive feel, and engaging performances that elevate him to be an equal amongst his peers. As Jools Holland wrote in Mojo:

"One of the great underrated songwriters. He mashes up elements of Cajun, country, blues, soul and British pop and it's about love, death and grown-up issues, sounding like it is sung by someone who has lived a life."

'Geraint Watkins & The Dominators'
Man Smart Women Smarter, Casting My Spell, In The Night, Grow Too Old, Blue Moon of Kentucky, Gotta Find My Baby, Paralysed, Nobody, Deep in the Heart of Texas, Don't You Just Know It, If Walls Could Talk, My Baby Left Me, Cakewalk Into Town.
Bonus unreleased tracks: Cowboys and Indians, I Don't Want To Be In Love, Trying Times, Everything You Need, Forget It, Not Giving It Back, Good Enough For You, Standing on a Wave (feat. Andy Fairweather Low). 21 tracks.
Featuring Micky Gee (guitar), Andy Fairweather Low (drums), Henry Spinetti (drums), Dave Charles (drums), John David (bass), Steve Gregory & Buddy Beagle (saxes). Produced by Andy Fairweather Low.

'Watkins Bold As Love'
My Happy Day, I Love Being In Love, It's A Wonderful Life, Don't Stop, Sweetheart, Don't Knock It, Honey Honey, It's Over, It's A Beautiful Day, Oobee Doobee Eyes, Big Bad Dog, Mr. Blue, It's A Wonderful Life (again). 13 Tracks.
Featuring Nick Lowe (bass), Robert Treherne (drums), Nick Pentelow (horns), plus Steve Donnelly (guitar) & Bob Loveday (violin). Produced by Neil Brockbank and Bobby Irwin.

In July 2018 Geraint Watkins & the Mosquitos played The Lexington, London. BBC Radio London's Robert Elms said on his show:
"It was great! Next time he plays anywhere, go and see him. Great players; he's a fantastic entertainer, very funny, very droll, very Welsh. Fantastic!"
Release date: September 28, 2018.

You can buy the CDs direct, here: https://jungle-records.myshopify.com/

Follow Geraint on Spotify: http://smarturl.it/GeraintOnSpotify
On iTunes & Apple: http://smarturl.it/Geraint-iTunesApple

More on Geraint Watkins here: GeraintWatkins.com