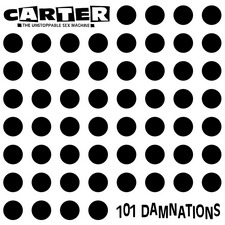 Carter the Unstoppable Sex Machine '101 Damnations' - a Record Store Day limited edition LP with 'dalmatian-styled' black blobs on white vinyl. It's also issued on CD with extra tracks.

This is their 1990 breakthrough debut album – the first time on vinyl since then. It went to #1 in the indie charts and then the UK top 30 on re-release, and features the top 40 chart hit Sheriff Fatman. Their next four LPs were all UK Top 10, one at UK #1.
Based in South London, England, Carter and Morrison originally were in an indie band called Jamie Wednesday, issuing two singles. Carter the Unstoppable Sex Machine (later shortened to Carter USM) formed when Fruitbat and Jim Bob were the only band members to turn up for a gig, and went on stage as a duo with backing tapes.
After a low-key debut single in 1988, it was the second single 'Sheriff Fatman' in 1989 that gained the band recognition. The song was written about a South London slumlord and was followed by the album 101 Damnations – a critical account of life south of the River Thames, full of black humour, cynicism, wordplay and puns. The album went straight to the top of the indie charts.

The band's gigs became well known for a wall of white stage lights that threw off enormous heat and contributed to the sweaty, stage-diving crowd scenes that became part of the band's image. They went on to be signed to Rough Trade and then Chrysalis with a series of four UK top ten albums, and were latterly with Cooking Vinyl.
Still popular, Jim Bob includes Carter songs acoustically at his gigs, such as at a sold out Shepherds Bush Empire in March 2018, and Les Carter is regularly touring the UK and Europe with his two current bands (see below).

Tracks: The Road To Domestos, Everytime A Churchbell Rings, Twenty Four Minutes From Tulse Hill, An All American National Sport, Sheriff Fatman, The Taking Of Peckham 123, Crimestoppers A' Go Go, Good Grief Charlie Brown, Midnight On The Murder Mile, A Perfect Day To Drop The Bomb, G.I. Blues

RECORD STORE DAY, APRIL 21 2018

Big Cat (UK) Records (c/o Jungle) LP cat.No: ABBLP101J 5013145710111
Also on CD with bonus tracks: RSPCE, Twintub with Guitar, Rubbish, Rent. CD cat.No: ABBCD101J 5013145710128

Currently, Les 'Fruitbat' Carter and Jim 'Jim-Bob' Morrison are active in various solo and band projects. Jim Bob plays his gigs solo acoustically, whereas Les features in two bands: the heavily-touring folk-punk Ferocious Dog and the obscurely-named punk band Abdoujaparov.
More info: facebook.com/carterusmofficial carterusmstore.com
ferociousdog.co.uk abdou.co.uk jim-bob.co.uk