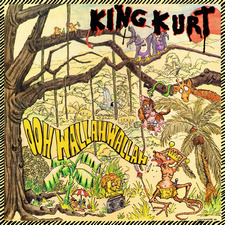 King Kurt release a 35th anniversary edition of their debut 'Ooh Wallah Wallah' LP in transparent yellow vinyl for Record Store Day. It includes their chart hit Destination Zululand, and their original version of Mack The Knife.

King Kurt first appeared on Thin Sliced Records in 1982 with the 'Zulu Beat' 7" in twenty different vinyl editions. They built up a following at riotous gigs, famously strewn with all sorts of muck thrown around, amongst also offering haircuts and drinking competitions – their mission was to have fun in dour times.

Signed to Stiff Records in 1983 they hit the Top 40 with 'Destination Zululand'. The album Ooh Wallah Wallah, was produced by Dave Edmunds at Rockfield and entered the UK top 100. They followed up with Top 50 singles the re-recorded 'Mack The Knife' and 'Banana Banana'.
After another album Big Cock with Stiff in 1986, they signed to Polydor for two singles and issued further albums in 1988 and 1994.

Musically they created a bizarre mix of roots rock-a-billy, funk, African rhythms and pop, with their own unique craziness and humour. Regular TV shows increased their notoriety as the rat-fixated, nutty mohican kids of rock'n'roll.

The band have recently announced a series of 2018 gigs as follows:

April 28 Southsea – Punk Fest (w/Spizz Energi etc)
May 12 Paisley - The Bungalow
May 19 Rotherham – Cutlers Arms
May 26 Norwich – Waterfront (w/Exploited, Sham 69, Membranes)
June 8 Derby – The Hairy Dog
Aug 10 Abingdon – Oddballs Rally
Nov 23 Stoke-on-Trent – The Underground
Nov 24 Kirkaldy – Windsor Hotel

Track list: Zulu Beat, Destination Zululand, Bo Diddley Goes East, Hound Dog, Wreck-A-Party Rock, Ghost Riders In The Sky, Gather Your Limbs, Rockin' Kurt, Lonesome Train, Mack The Knife, Oedipus Rex, Do The Rat.
Also available as a CD+DVD set with extra tracks and videos: https://www.ebay.co.uk/itm/222538027300
Listen:- 'Ooh Wallah Wallah' on Spotify - or - 'Ooh Wallah Wallah' on iTunes & Apple Music
Watch:- 'The Greatest Rock'n'Roll Band in the World' 'Mack the Knife' video promo.
FREUDLP103 RSD Limited edition yellow vinyl 5013145210314