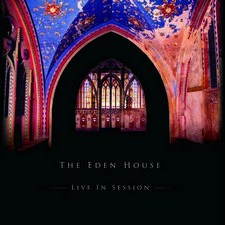 The Eden House 'Live In Session' - a Record Store Day exclusive vinyl-only LP
Live sessions from 2017 & 2009 from the prog-goth, trip-rock musical collective. This is a Vinyl-only release: these exclusive sessions aren't available on CD or digital.

The Eden House are a post-goth musical collective who've issued three full-length albums and headlined festivals in the UK, Germany, Belgium and Poland. Their sound is a dramatic amalgam of Pink Floydian guitars, big dubby bass, cinematic violins, sultry female vocals, with melodies welded in a haunting, modern trip-hoppy atmosphere, and startling, expanded codas.
Formed in 2008 by Stephen Carey with Tony Pettitt of Fields of the Nephilim, musicians include Simon Rippin ex-The Nefilim and Bob Loveday of Penguin Café Orchestra, Andy Jackson of Pink Floyd engineering fame, and often joined by other guests including an array of exceptional singers.
For Record Store Day 2018 they release a vinyl-only LP of exclusive 2017 live in the studio recordings, paired with a 2009 live session.

Vocalists on this album are: Monica Richards (Faith & the Muse), Amandine Ferrari, Evi Vine, Meghan-Noel Pettitt & Louise Crane.

Side 1. Live at Goldtop, 2009: God's Pride, Reach Out, Sin. These recordings were captured on video:

Side 2. Live at Vertical, 2017: Words and Deeds, Second Skin, The Ardent Tide. The session was videoed:
RECORD STORE DAY April 21 2018
Cat.No: FREUDLP125 5013145212516
The Eden House live in 2018:
The Eden House have announced two live festival events in Europe, as follows:
May 18: Germany - Leipzig - Wave Gotik Treffen Festival, Agra Halle.
July 13: Poland - Castle Party Festival.
For line-ups, more and updated info, go to: facebook.com/TheEdenHouse