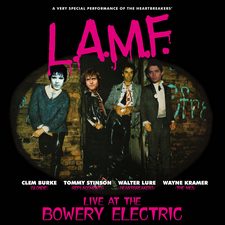 Members of Blondie, Replacements, MC5 & Heartbreakers perform Johnny Thunders & the Heartbreakers' classic 1977 'L.A.M.F.' album.
Sole surviving Heartbreaker Walter Lure was joined by Blondie's Clem Burke, The Replacements' Tommy Stinson and MC5's Wayne Kramer over two nights at New York City's 'Bowery Electric' club in November 2016, and captured for posterity.
Joining them on stage were guests Jesse Malin of D-Generate, Liza Colby and the Dead Boys' Cheetah Chrome. The DVD features bonus material of interviews with all four band-members along with Jesse Malin.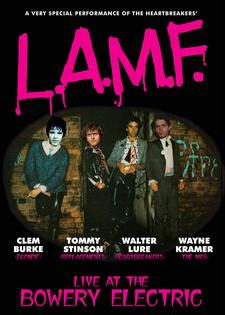 'L.A.M.F.' is the album recorded by Johnny Thunders & the Heartbreakers in punk-era London, after they accompanied the Sex Pistols, Damned & Clash on the aborted 'Anarchy Tour'. Being ex-members of the New York Dolls they were lauded by the young punks, and went on to record the high-octane rock'n'roll album, in retrospect labelled as a classic:
"That 'L.A.M.F.', the only album by Johnny Thunders' swaggering, smacked-up post New York Dolls outfit, The Heartbreakers, is one of New York punk's defining artefacts (despite being recorded in Britain), is beyond dispute." – Damien Love, Uncut magazine, 9/10 review.
"Arguably the best album to come out of the original wave of punk rock" – Joe Whyte, Louder Than War
This live DVD, limited coloured vinyl LP and CD follows on from the remastered 40th anniversary edition of 'L.A.M.F.' and the reissue of an extended 'Definitive Edition' 4CD box set and triple-vinyl LP of the albums' many mixes and demos.
The release coincides with Walter Lure taking his 'L.A.M.F.' show on out the road again – this time with the Sex Pistols' Glen Matlock on bass, Social Distortion's Mike Ness on guitar & vocals, and again Blondie's Clem Burke on drums. They played six dates starting at the end of November 2017 covering US east and west coasts, with gigs in Los Angeles, San Diego, Brooklyn and New York.
LURE BURKE STINSON & KRAMER 'L.A.M.F. Live at the Bowery Electric'
LP: FREUDLP124 Ltd blue vinyl: Nov. 24; CD: FREUDCD124 Dec 1; DVD: JVD0124D
All avaiable at the Jungle ebay store and the Jungle Amazon store.