The Eden House 'Songs For The Broken Ones' CD & 2LP
The Eden House are a musical collective, who over their previous two albums have collaborated with a wide variety of vocalists and musicians.
On much of their third full-length album, 'Songs For The Broken Ones', they've worked with Monica Richards. An eco-activist veteran of the DC punk scene and sometime Conflict member, she's most known as half of Faith & The Muse. One of her previous Eden House tracks features on the new Japanese 'Yu-Gi-Oh!' manga movie soundtrack.
Other lead vocalists featured are Lee Douglas of Anathema, Louise Crane, Meg Pettitt and Kelli Ali of Sneaker Pimps. Musicians include Bob Loveday of Penguin Café Orchestra & Van Morrison Band and Simon Hinkler of The Mission.
The Eden House are built around the core duo of guitarist Stephen Carey of This Burning Effigy and bassist Tony Pettitt of Fields of the Nephilim together with drummer Simon Rippin of The Nephilim.
They embellish their music with lush layers of violin and diverse female vocals, leading them to be categorised on Wikipedia as ethereal wave. Without betraying their goth-rock roots, The Eden House expand their horizons working with top musicians from the prog-rock and trip-hop worlds to create their unique fusion sound.
Fo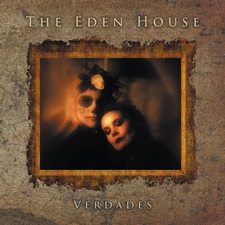 rmed in 2009 they've previously attracted calibre collaborators such as Julianne Regan of All About Eve, Amandine Ferrari, Evi Vine, Jordan Reyne, Pink Floyd's sound engineer Andy Jackson and Phil Manzanera of Roxy Music. They've toured and headlined festivals in the UK, Germany, Belgium and Poland.
A 7", digital single and video of the lead track 'Verdades (Chosen version)' b/w 'Ours Again (Resisted version)' (JUNG081) preceded the album, and live dates in the UK and Europe are currently being planned.
Cat. No; FREUDCD123 / LP123 (2xLP) / JUNG081 (7")
UK PR: Matt Reynolds This email address is being protected from spambots. You need JavaScript enabled to view it.; 020 7275 8253 / 07889 491504
German PR: Sandra Eichner This email address is being protected from spambots. You need JavaScript enabled to view it.; +49 8152 30 49 898
1. Verdades, 2. One Heart, 3. Misery, 4. 12th Night, 5. The Ghost of You, 6. Ours Again, 7 It's Just A Death, 8. Words and Deeds, 9. Let Me In, 10. Kiss Kiss Bang Bang, 11. Second Skin, 12. The Ardent Tide. 68 mins.
Album credits:
Vocals by Monica Richards, except: 3, 12. Louise Crane; 5, 12. Meg Pettitt; 7. Lee Douglas; 10. Kelli Ali.