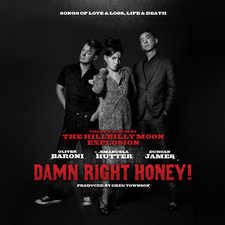 The Hillbilly Moon Explosion
'Damn Right Honey!' LP & CD

'Damn Right Honey!' follows up the 2011 'Buy Beg Or Steal' album that spawned the viral and vinyl hit murder ballad duet with Sparky Phillips, 'My Love For Evermore'.
Based around ex-patriot Englishmen Oliver Baroni and Duncan James with chanteuse Emanuela Hutter, they've long been showing Zurich how to rock'n'roll. Now having conquered both their domestic residence and neighbouring France, as part of a 10-nation European tour they returned to the UK in May and visit again in August 2013:
9. London Camden Underworld; 10. Cardiff Bogies; 11. Blackpool Rebellion Festival.
As their name suggests The Hillbilly Moon Explosion's roots are in rockabilly; however they've always been just as comfortable with 60's pop and smoky ballads. They've now have widened their template to embrace all roots Americana.
'Damn Right Honey' features two distinctive guest singers joining them for duets. Rockabilly stalwart Paul Ansell, the chosen vocalist of Scotty Moore, contributes to the single 'Flying High, Moaning Low'. And Sparky Phillips returns to join Emanuela on 'Northern Crown'. For the first time they've engaged a brass section, and are also aided and abetted by BJ Cole and Geraint Watkins amongst others. The album is again produced by Greg Townson of US bands The Hi-Risers and Los Straightjackets, and was recorded at Goldtop Studio in Tooting, South London.
First formed some years ago, their first three albums were issued on various rockabilly labels. Relaunched with their fourth, 'Buy Beg Or Steal', they embarked on a busy schedule touring clubs and festivals across Europe, including touring with Jeff Beck. In the UK last year they appeared at disparate events such as for the Swiss Olympic team, the Rebellion Punk Festival and the Jazz Café.
Tracks: Drive This Truck No More, Perfida, Flying High Moaning Low, Cool Spring Breeze, Goldmine, Westbound Train, Die In Style, I Hear You Knockin', Ellie Lou, Motorhead Girl, Northern Crown, Sky In Your Eyes. LP bonus track: Pack Lunch.
CD: AU79CD010 in limited Gold Disc and black vinyl effect.
180g LP: AU79LP010 with bonus track.

Goldtop Recordings
Coming soon: 'Flying High Moaning Low' / 'Westbound Train' (w. Paul Ansell) 7" AU7945009
www.facebook.com/hillbillymoonexplosion www.hillbillymoon.com