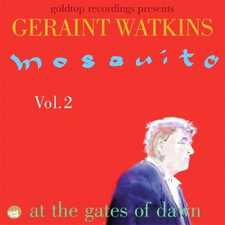 Geraint Watkins 'Mosquito vol. 2' EP
Four more brand new recordings on 10" vinyl and digital EP from the esteemed Welsh singer-songwriter.
As seen in 2012-13 on world tour support to Nick Lowe, and in Bill Wyman's Rhythm Kings.
Geraint Watkins releases a second 10" vinyl and digital EP of brand new songs, 'Mosquito Vol. 2 – at the gates of dawn'. Produced by Neil Brockbank (Nick Lowe), and recorded at Goldtop Studio in London, it follows 'Mosquito Vol. 1', building up to a new album due soon.
Fresh from lengthy stints as a member of both Nick Lowe's band and Bill Wyman's Rhythm Kings, Geraint played a live launch showcase with 8-piece band at Dingwalls, Camden, London NW1 8AB on Weds March 20th.
Extra special guest Andy Fairweather-Low also performed a solo acoustic set. The line-up accompanying Geraint will be Bobby Irwin, drums; Matt Radford, bass; Johnny Scott, guitar; Martin Winning, tenor sax, clarinet & flute; Kate St. John, oboe, cor anglais & alto sax; Matt Holland, trumpet & flugel horn.
Geraint Watkins is fast becoming more known as a singer and songwriter in his own right, rather than just being a favourite keyboard player of people like Bob Dylan, Van Morrison, Bill Wyman, Paul McCartney, Nick Lowe et al.
In addition to his proven prowess at accompanying the grandest, his solo material gained many new fans following his 2009 'In A Bad Mood' album and subsequent TV and radio appearances including on 'Later... with Jools Holland'. Last year he entertained thousands as the support on Nick Lowe's world tour.
The series of releases will be backed by a series of Geraint & full band gigs, in London, Spain, Sweden, Norway and elsewhere.
Tracks:
Side A: 1. Shine A Light 2. Shaky Tree.
Side B: 1. Mosquito 2. This Old Fashioned Love.
Cat no: AU79EP008 Goldtop Recordings 5013145600863