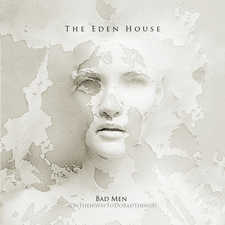 The Eden House 'Bad Men (OnTheirWayToDoBadThings)'
New CD-single, featuring guest vocalist Monica Richards (Faith & The Muse) and guest guitarists Phil Manzanera (Roxy Music), and Simon Hinkler (The Mission). New album 'Half Life' follows in May, along with live dates.

The London-based gothic/prog rock/trip-hop band The Eden House are to release a new single and album, four years after their acclaimed debut album 'Smoke & Mirrors'.
The Eden House is a collaborative project known for featuring an eclectic selection of guest artists, each adding their diverse talents to the music.
The album and single feature seven female lead vocalists, including Monica Richards (of US band Faith & The Muse), Jordan Reyne, Amandine Ferrari, Laura Bennett and Lee Douglas (from Anathema). Guesting musicians include guitarists Phil Manzanera (Roxy Music) and Simon Hinkler (The Mission).

The nucleus of the mutating band is Stephen Carey, Tony Pettitt and Andy Jackson, with backgrounds in Adoration, Fields of the Nephilim and Pink Floyd's mixing desk, together with Simon Rippin and Bob Loveday.

Over the past four years the band have gigged widely across the UK and Europe, including headlining festivals in Germany, Belgium, Poland and the UK. Two maxi-EPs were issued in the interim: 'The Looking Glass' paired with a DVD of their debut live studio performance, and the 'Timeflows' mini-album last year.
The new album 'Half Life' is due for release in May 2013. A London album launch gig is about to be announced and they're booked to play the Sacrosanct Festival on 28th September. In support of the new album a new series of gigs is planned, and a video for the new single featuring Monica Richards has just been unveiled: -

1. Bad Men (OnTheirWayToDoBadThings) (vocals: Monica Richards) (single version)
2. Survival Instinct (vocals: Amandine Ferrari)
Survival Instinct will not appear on the album and is exclusive to this single. The single, along with so much more, can be purchased at Jungle's ebay store.

Card Digi CD JUNG072CD 5013145107225
Release date: March 4th 2013
More info: www.theedenhouse.com www.facebook.com/TheEdenHouse
www.facebook.com/JungleRecords