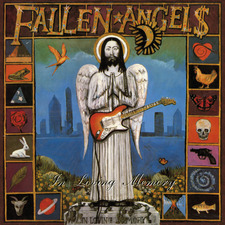 FALLEN ANGELS 'In Loving Memory' & 'Wheel Of Fortune'
Knox of The Vibrators' side-project: two albums first time on CD, in a two-CD set. With nine bonus tracks and 12-page booklet. Features Hanoi Rocks members Andy McCoy and Nasty Suicide.

In 1984, Knox found he had some spare time away from The Vibrators and a bunch of new songs. He teamed up with Hanoi Rocks who were also kicking their heels to form 'Fallen Angels' and recorded an eponymous album.

The project continued for a further two albums, now issued on CD for the first time. With Hanoi Rocks busy, in 1986 he formed a regular line-up with guitarist Matt Kellet, Vibrators bassist Mark Duncan and drummer Richard Wernham (aka Ricky Slaughter of The Motors).
The 'In Loving Memory' album featured guest appearances from Hanoi Rocks' Andy McCoy and Nasty Suicide. Richard Wernham gave the single Hey Susie an untypical, over-the-top pop production.
A third album, 'Wheel Fortune' followed in 1988, again with Nasty Suicide guesting, which spawned the singles Clouds and Teenage. By this time the band were gigging around the UK and also Europe.

The nine extra tracks include b-sides, early versions including the raw version of Hey Susie, a reworking of Teenage, a demo for an Urban Dogs track, and both a short and 21-minute long version of 'Troops Of Tomorrow', the Vibrators anthem that The Exploited covered and put into the national charts. The double-CD comes with a 12-page booklet with band photos and notes by Knox about how the recordings came about.

Although Knox has currently curtailed live performances with The Vibrators, a new Vibrators album is being recorded with guest appearances from Chris Spedding, Hugh Cornwell, Walter Lure, Wayne Kramer, Anti-Flag and many others. He's also resurrected the Urban Dogs, his collaboration with Charlie Harper of the UK Subs, performs with a country outfit Trailer Trash Orchestra, and frequently shows his paintings in galleries around London. Both the 'Fallen Angels' and 'In Loving Memory' albums feature Knox cover paintings.

DISC 1: 'In Loving Memory': Hey Susie, Falling Rain, Discipline, Chasing Dreams, Ah-ha, Sailors On The Sea, Stalk The Girls, Dream Girl, Strung Out On You, Country Girl, Goodnight Darling, Bonus tracks: Hey Susie (raw version), Amphetamine Blue (album version), Teenage (new version), New Baptism (demo version), Troops Of Tomorrow (short version). CD1: 66:28 mins duration
DISC 2: 'Wheel Of Fortune': Teenage, Perfect Love, Clouds, Is This The Way Love's Supposed To Be?, Acid Rain, Dirt, I'm Gonna Love You 'Til The Day I Die, Girl, Dirty Money, I Love You, Bonus tracks: Is That The Way Life's Supposed To Be?, Losing My Reason, Reflection, Troops Of Tomorrow (long version). CD2: 75:35 mins duration. 30 tracks in total.

Cat. no: FREUDCD098 www.knox76.com Knox interviewed on Resonance FM