Hillbilly Moon Explosion - Buy Beg or Steal



· Two million Youtube views for 'My Love For Evermore'!
· Six 7" single pressings of 'My Love For Evermore'!
· Gigging extensively around Europe and the UK.

The Anglo/ European 'neobilly' Youtube sensations return to the UK for a brief series of gigs in February.

It's their first visit since their 'Buy Beg or Steal' album and 'My Love For Evermore' single featuring Sparky Phillips (Demented Are Go). The video is a Youtube hit with well over half a million views to date, and the 7" now has a fifth, green vinyl pressing.
Although half the band are English, they're based in Zurich and have been touring Europe constantly since this, their fourth album release. But these are rare UK gigs; they were last remembered here in 2004 supporting The Stray Cats. Dates are:

10 Feb. 2012 LONDON, Camden Underworld
11 Feb. 2012 STAMFORD, Lincs Voodoo Lounge
12 Feb. 2012 CARDIFF Bogiez
For full European dates, click here.

They've surfaced from the rockabilly underground to find themselves on tour through Europe, on TV, supporting Jeff Beck and turning down Eurovision. Their new album 'Buy Beg Or Steal' (AU79CD/ LP005) is released on Goldtop Recordings/ Jungle.
The single 'My Love For Evermore' (7" limited coloured vinyl & download) is a dark, dramatic murder-ballad duet between HME's Emanuela Hutter and Demented Are Go's Sparky Phillips. The video, starring Emanuela and Sparky (below) is a hit on Youtube, currently with over 2,000,000 views and accelerating.
The 7" single created a collectors' frenzy! Limited editions of yellow vinyl and sleeve, red vinyl and sleeve and blue vinyl and sleeve all sold out. So now we have the fourth pressing, purple vinyl and sleeve, SOLD OUT available at our ebay store. Collect them all!
Now also available is the 180g LP vinyl version with an extra, exclusive track not available on CD or download or anywhere else: 'Non Ho L'Eta'. It can be ordered direct from Jungle via ebay (link on the left panel).
Here's the full video: -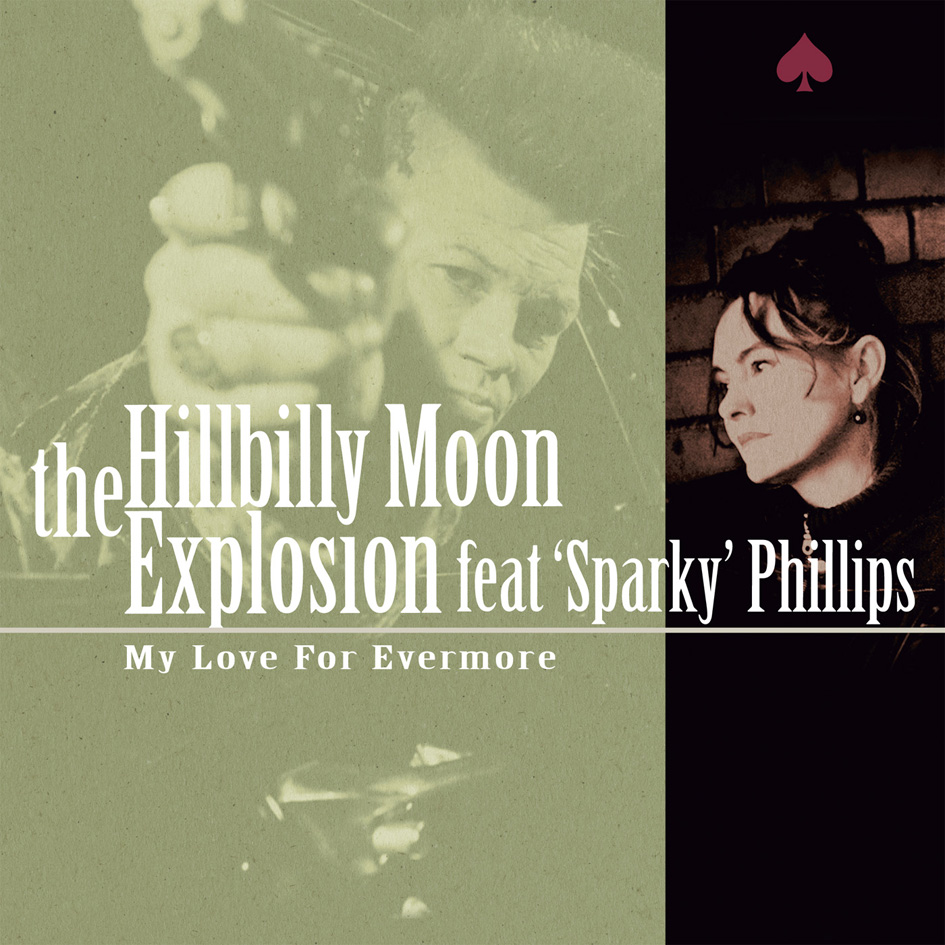 facebook.com/hillbillymoonexplosion hillbillymoon.com
· Roots rock revivalists with their fourth studio album!
· Now surfaced from the rockabilly underground, touring across Europe, on TV, supporting Jeff Beck and turning down Eurovision.
· Single features duet by HME's Emanuela and 'Sparky' of Demented Are Go; with a new viral video filmed.
The Hillbilly Moon Explosion are a pan-European rock'n'roll band with much flair and a fast growing fan-base. They're fronted by the Italian-Swiss songstress Emanuela Hutter and English exile singer and slap bassist Oliver Baroni, ably backed by English guitarist Duncan James and Swiss drummer Luke 'The Puke' Weyermann.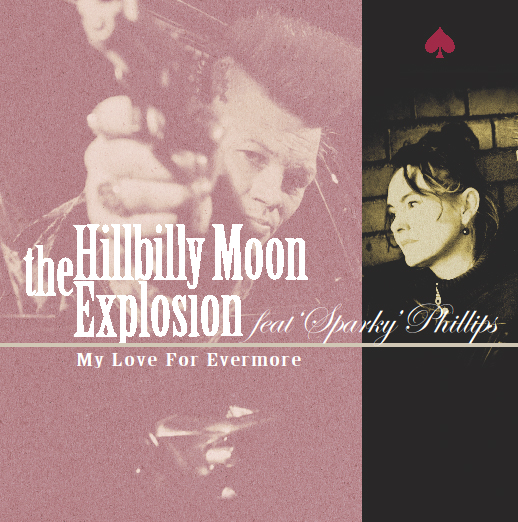 Emerging from the rockabilly scene in their home base of Zurich, they recently turned down an invitation to be the Swiss Eurovision entry. Known to some for their mini-hit 'Johnny Are You Gay?', a recent retrospective has propelled them gigging across Europe, including TV
shows and a tour supporting Jeff Beck climaxing at the legendary Paris Olympia. A cinéma vérité video from that album is here: http://youtu.be/bANSizYxh-w

A single 'My Love For Evermore' precedes the album, now on four different coloured vinyl and sleeve 7" and download. It's a dark country duet by Emanuela and guest Sparky Phillips of infamous, wayward psychobilly band Demented Are Go,
assisted by Geraint Watkins on organ, and backed with a rockabilly cover of 'Enola Gay'.
The video for it has gone viral, with hundreds of thousand views. Described as 'a Bonnie & Clyde-style Tarantino homage', it can be seen here: http://youtu.be/2rlYPb2plaY?t=17s
The album is produced by Greg Townson of US band The Hi-Risers, and recorded in London at Goldtop Studio, Camden last year. (Goldtop Studio has now relocated to Gravity Shack, Tooting.)
TRACKS: - Buy Beg or Steal, Broken Heart, She Kicked Me To The Curb, Natascia, Trouble & Strife, My Love For Evermore (with Sparky), Night of the Living Ted, Imagine A World, Goin' To Milano, Touch Me, Rock'n'Roll Girl, Chalk Farm Breakdown, Enola Gay. 13 tracks.

www.facebook.com/hillbillymoonexplosion www.hillbillymoon.com
AU79CD005 (CD); AU79LP005 (180g LP); AU7945006 (7")