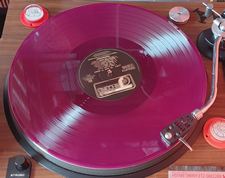 Record Store Day this year has been hit with unprecedented vinyl production problems, made far worse by Brexit and Covid.
To try to avoid anybody's futile trip to a remote record store, here is an updated Record Store Day stock status for our Heartbreakers, The Waldos and The March Violets vinyl releases at our distributors around the world.
Info as known on July 15.
UK
Stock of all three titles has shipped to record stores and all shop orders have been filled.
Benelux
Stock was late arriving at the distributor but we believe just in time to ship to stores.
Sweden
Because of an incorrect Brexit customs word on the paperwork, the shipping company didn't collect. They didn't inform Sound Pollution of this problem - SRD/Proper have revised it and it should go on July 16 - far too late for RSD in Sweden. Shipments to Sweden have been taking many weeks so best to check with your local store in Sweden.
Germany
L.A.M.F. and Waldos were delivered to the UK shipper on June 24 but only arrived on July 12 - 18 days later, delayed by customs and too late for most shops, we fear.
The March Violets shipped a day later but arrived just in time to get to shops, we believe. (Prior to Brexit we'd send on a Friday and they'd arrive on a Monday ... no customs to delay it.)
USA
L.A.M.F. - After touch and go with production delays, we weren't aware of the lack of air-freight capacity at viable rates. It ended up going via Canada, taking an extra week and therefore missing RSD. The new USA date is July 30, still through stores on the RSD list. Many US RSD titles have been moved to then or Black Friday.
The March Violets and The Waldos - these are not RSD releases in USA, so you can order them direct from our US distributor, at the links here. The Waldos CD will be there shortly too.
Jungle mail-order
RSD is run by record stores with the aim of ensuring their existence - a decade ago they were endangered. Any stock left over is first offered to (UK) shops for reorders. Any remaining stock we can then sell via direct mail, from August 1st - we'll do that exclusively at our Jungle Direct Store, not ebay or Amazon.
EU mail-order: Currently European sales are blocked at our Jungle Direct store, due to Brexit-deal customs regulations from July 1st. We're researching (IOSS) companies that arrange EU VAT to be collected and accounted direct, so the price you see will be the price you pay. That service incurs additional costs, and if it's too prohibitive it may be left for EU customers to pay VAT upon arrival. We want to avoid that if we can! (eBay and Amazon have their own systems to collect and remit EU VAT, so this issue doesn't affect those marketplaces.)
Good luck with your shopping!
L.A.M.F. vinyl on the turntable pic - by and thanks to Pedro Mercedes.